Technology and innovation play a vital role in how KBS continuously improves its facility operations for clients. From our core operations platform to re-engineering existing cleaning products to be more efficient and productive, KBS is a leader in tech-enabled facility services.
One of our latest technology features is called SnowMap, which enables our Exterior Services teams to be more proactive and efficient for clients when it comes to snow clearing services during the winter season. And with an increase in extreme weather events, including record snowfall in many parts of the U.S., we're confident this feature will come in extremely handy, helping to reduce overall response times for snow and ice management needs.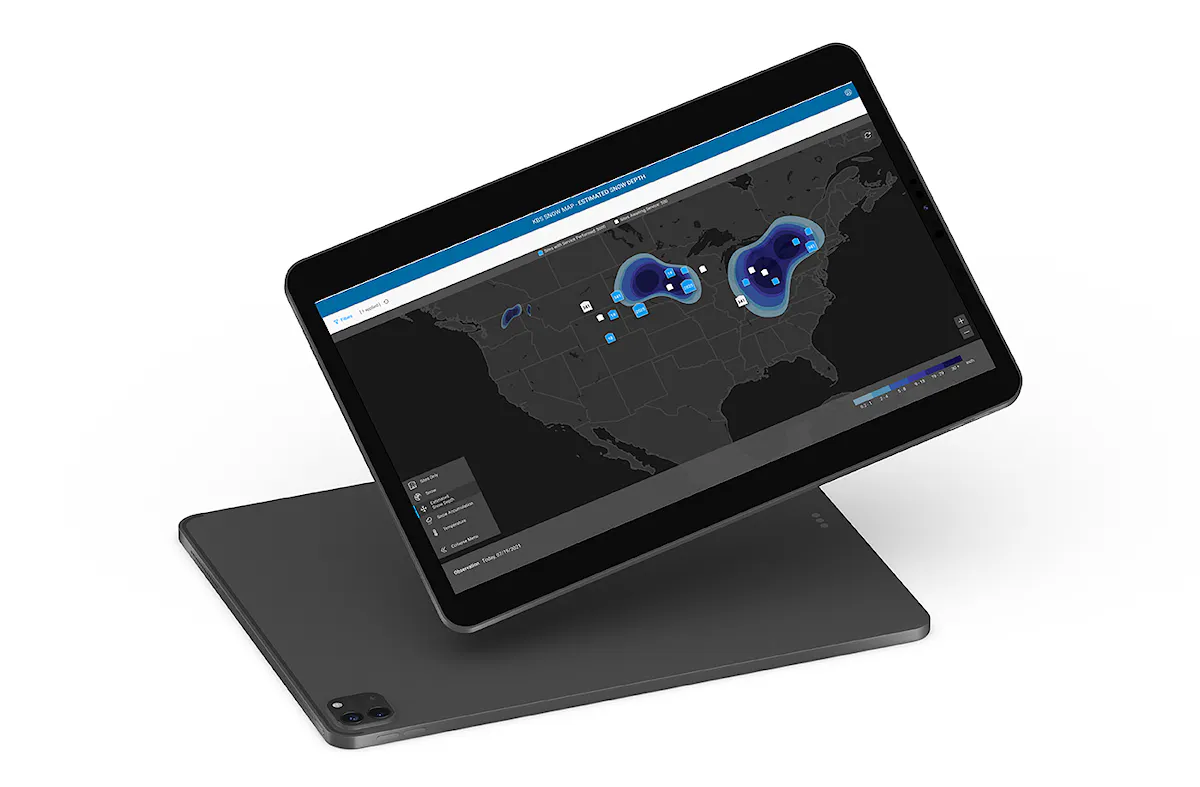 What is SnowMap and how does it work?
Part of our KBSForce™ technology platform, SnowMap is a proprietary web-based app that integrates with WeatherWorks, a leading meteorological service platform that provides trusted weather information, as well as our service delivery reporting data provided via our proprietary field app called KBS Presence. This visibility allows our operations team to be nimble and proactive; seeing things, managing them to completion, and providing real-time ground-level information to our clients with a high degree of certainty and accuracy.
While SnowMap has been live for only a few months, we're already seeing an improvement to our snow removal services and associated backend operations. This includes:
Improved visibility: As part of KBSForce, SnowMap can be used on a tablet device or a desktop and allows our field operations teams to view everything they need at a regional and even national level, including customer locations, anticipated and current weather events, and how well staff are responding to these events. SnowMap also integrates with third-party systems on the client side to improve workflow efficiency and reporting.
Greater efficiency: Prior to SnowMap, our operations teams relied on traditional methods, including weather reports, traffic cameras, and manual vendor site verifications, along with Excel spreadsheets, to manage snow removal services. With SnowMap, we have combined all these factors and tied in our KBS Presence on-site reporting technology, thus modernizing our snow removal functions and processes, saving both KBS and our clients time with more streamlined service and operations experiences.
Enhanced field coverage: Along with new technology, KBS has also added new zone managers nationwide to enhance monitoring and coordination of our exterior maintenance services. SnowMap provides them with the information they need to do their jobs more effectively, including site specifics and relevant contact information. The technology also allows field leaders to better re-allocate available resources where it's needed most at any given moment. SnowMap is also designed to automatically create an escalation in our system when service is overdue, thus enabling a proactive approach and quicker response times.
Timely billing: Finally, with SnowMap KBS is able to automate its reporting and billing processes, delivering timely, accurate billing. This is significant, especially when servicing thousands of locations for hundreds of clients

KBS' new SnowMap technology is just one more example of our company's ongoing commitment to developing innovations that enhance our performance for clients. If your company is looking for a trusted Exterior Services partner that can bring greater efficiency and customer service at scale, then contact us today.