Editor's Note: The following is part of an ongoing series in which we profile the journeys of KBS team members.
A rising star among Regional Zone Managers (RZM), Yoel Beltre is a 27-year-old member of KBS' Logistics Support Services (LSS) division. He oversees a close-knit group of 11 managers who manage cleaning services for 47 retail warehouses in Delaware, New Jersey, and Pennsylvania. Yoel ensures that everyone stays in compliance with the client's strong safety regulations and high standards of cleanliness through ongoing training and sanitizing of all major touchpoints in restrooms, breakrooms, main offices, and other work areas.
Based in Reading, Pa., Yoel's rise from third-shift cleaner to RZM in a brief period shows how KBS promotes from within and rewards hard work. He credits his success to a strong work ethic and the support of team members who feel more like family than co-workers. Read more about Yoel's KBS journey in this short interview below!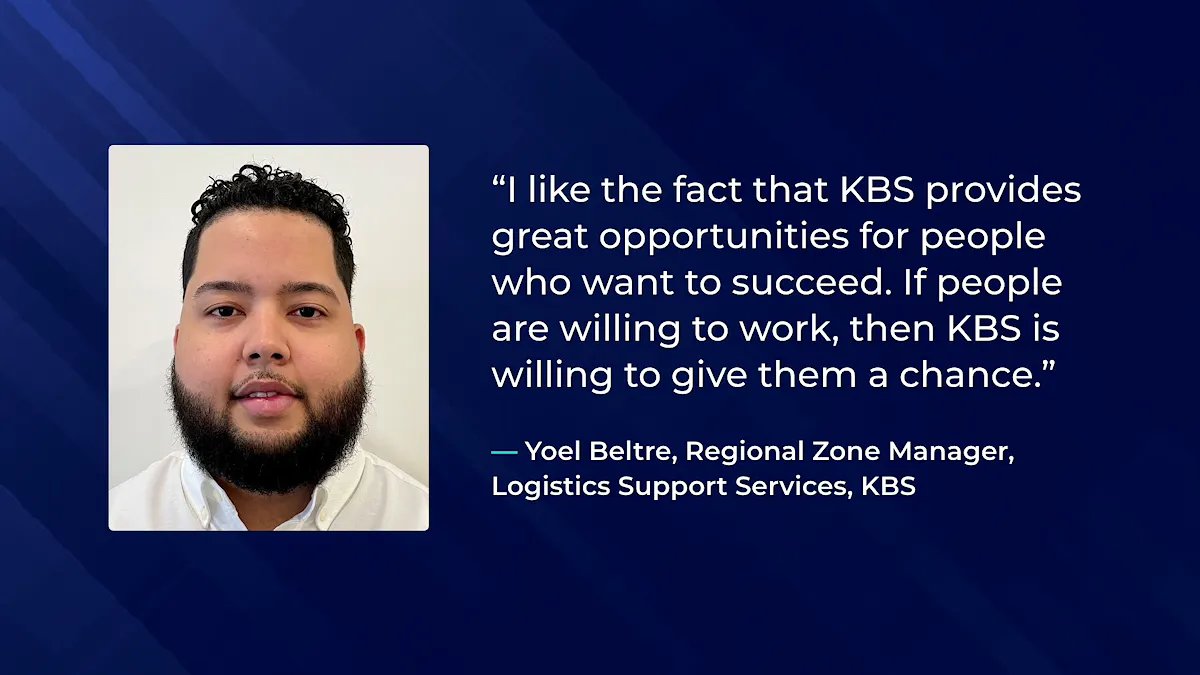 Q: Where are you from originally?
A: Santiago, Dominican Republic. When I was eight years old, I came to the United States with my family because my father got a job in construction. We settled in West Haverstraw, N.Y.
Q: When did you start working at KBS and what do you like best about it?
A: I like the fact that KBS provides great opportunities for people who want to succeed. If people are willing to work, then KBS is willing to give them a chance. I joined the company in April 2019 as a cleaner in Fall River, Ma., making just over minimum wage. Now, in less than three years, I am a Regional Zone Manager. I also like that KBS likes to promote from within.
Q: Who are some of the people that have helped you grow and develop here at KBS?
A: Leaders like Robert Fish, my current manager, as well as all my previous managers. I would not be where I am without them. They have all helped me to see the big picture, both professionally and personally, and realize that it is worth making sacrifices to earn rewards.
Q: What do you like most about your team members and working with them?
A: Even when things get difficult, we always come together as a team. The needs of our client can be very challenging at times, so I really appreciate everything they do. We don't say "no" to each other. We see ourselves as family more than co-workers, and we take care of each other.
Q: What are some of the most important things you have learned about our business?
A: Always focus on the client, and always focus on safety. At KBS, I believe the high standards we set as a company have helped us grow. I also think we've been able to grow because of the expectations we have for our teams, the responsibilities we assume, and how well we treat our clients.
Q: What is your most memorable moment so far at KBS?
A: Whenever we have a kick-off meeting to start working at a new client site, usually a fulfillment center. All the ZMs and RZMs in the area gather to help support the team. It is always nice to talk with some of your co-workers who you don't get to see very often. Plus, there's the excitement of starting a new chapter in your journey with the client.
Q: What advice would you give to someone just starting out at KBS?
A: Give 100% effort no matter what. Never lose sight of the big picture. Do not think of yourself as "just a janitor." You are an essential worker. If you work hard, your manager will notice, and you will get a chance to grow.