Editor's Note: The following is part of an ongoing series in which we profile the journeys of KBS team members.
In less than three years, Leidy Barillas has made significant career strides within KBS. She first started as a janitorial crew member after responding to a Facebook ad. Since then, she has earned multiple promotions to become a Regional Zone Manager overseeing 36 distribution center locations in Maryland and Virginia. Leidy is a married mother of three living in Severn, MD, so there is never a dull moment in her busy schedule. Fortunately, thanks to the support of her family and co-workers – as well as a great babysitter – she has been able to make it work. Leidy loves working at KBS and is grateful for the professional growth opportunities as she continues to support her family.
Read more about Leidy's career path at KBS below!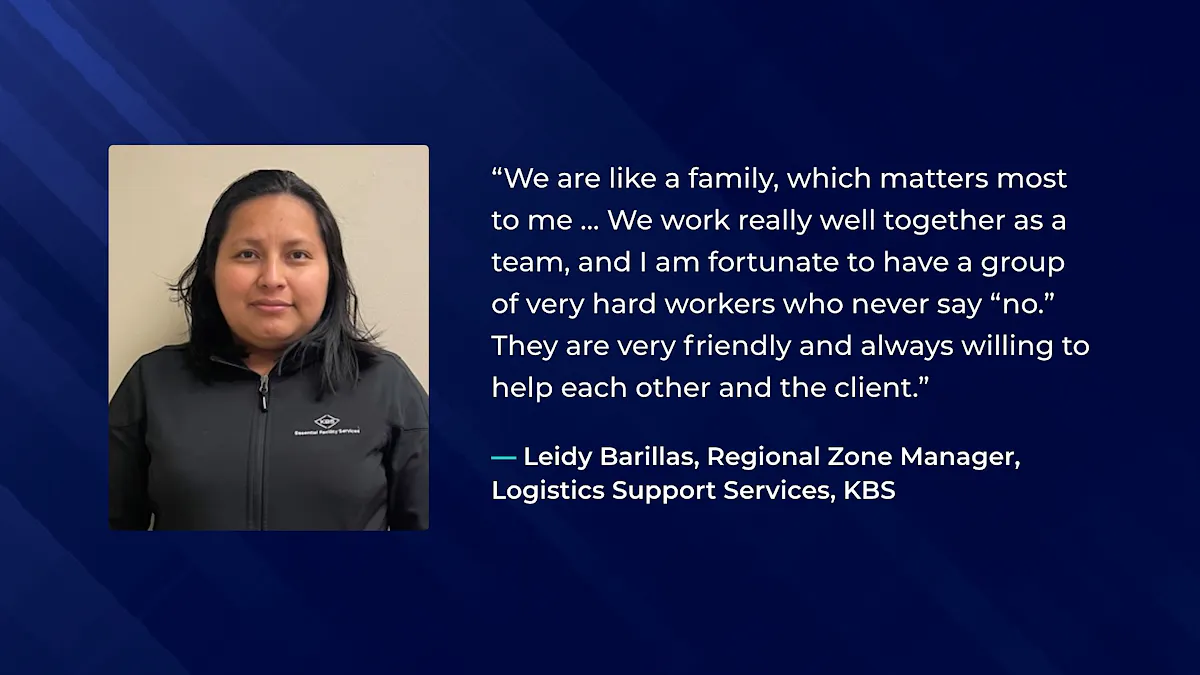 Q: Where are you from originally?
A: Santa Ana, El Salvador. My husband and I moved to the United States in 2003 and settled in New Jersey. Later we moved to Maryland for his job.
Q: When did you start working at KBS, and what do you like best about it?
A: I started as a cleaner in July 2019. Previously I managed two Hilton hotels and a BP gas station. Shortly after starting at KBS, I was promoted to Site Supervisor managing seven people. Three months later, I was elevated to Zone Manager. Then, 18 months after that, I was promoted again – this time to Regional Zone Manager. KBS is the first company where I feel like I am in a comfort zone. I have gotten to know many great people, and I am proud to work for a company that services major organizations nationwide.
Q: Who are the people that have helped you grow and develop here at KBS?
A: I always listen to different ideas that come from my fellow team members. My manager, Regional Vice President Robert Fish, is the best manager I have ever had. Continuous Improvement Manager Rachel Green has helped me a lot, too; she is always there for me with anything I need. Robert will always show us what to do if we need assistance, and Rachel is always providing us with more helpful types of training.
Q: What do you like most about working with your team members?
A: We are like a family, which matters most to me. We call ourselves "Team Fish." Sometimes, it seems like we spend more time at work than with our families, so it is important to have strong relationships. We work really well together as a team, and I am fortunate to have a group of hard workers who never say "no." They are very friendly and always helping each other and the client.
Q: What is the most important thing you have learned about our business?
A: "Safety First" is especially important at KBS. Some companies do not put as high a priority on that, but I am happy we do. KBS puts their employees first.
Q: What is your most memorable moment so far at KBS?
A: I often work with other KBS team members from different regions, including other Regional Vice Presidents, and you can learn a lot from that. People manage regions differently. I have been able to observe best practices from seeing how they operate, and I share those practices with my team, too. It makes you feel good because you are helping others, and the company.
Q: What advice would you give to someone just starting out at KBS?
A: KBS is always giving people opportunities, and there is room for everyone to advance. So, do your job well, and when your manager sees it, they will give you a chance to grow.