A KBS site supervisor at a major retail store in Troy, Michigan is earning rave reviews from store executives and KBS managers for going above and beyond to help customers while also helping enhance the store's cleanliness levels.
One incident in particular exemplifies Guy Richardson's willingness to accommodate customers. Richardson, a supervisor at the store for more than a year, was working one morning in November when he noticed an elderly woman walking slowly through the store looking confused and overwhelmed. When he asked if she needed any assistance, she told him that she needed an outfit for a birthday party.
Since his team was running smoothly, Richardson decided to assist the 93-year-old. He escorted her to the women's department, helped her pick out a dress, took her to the cashier, and then carried her bags to the car. "She had never been to our store before, and it's a pretty big store, so I helped her out," he said.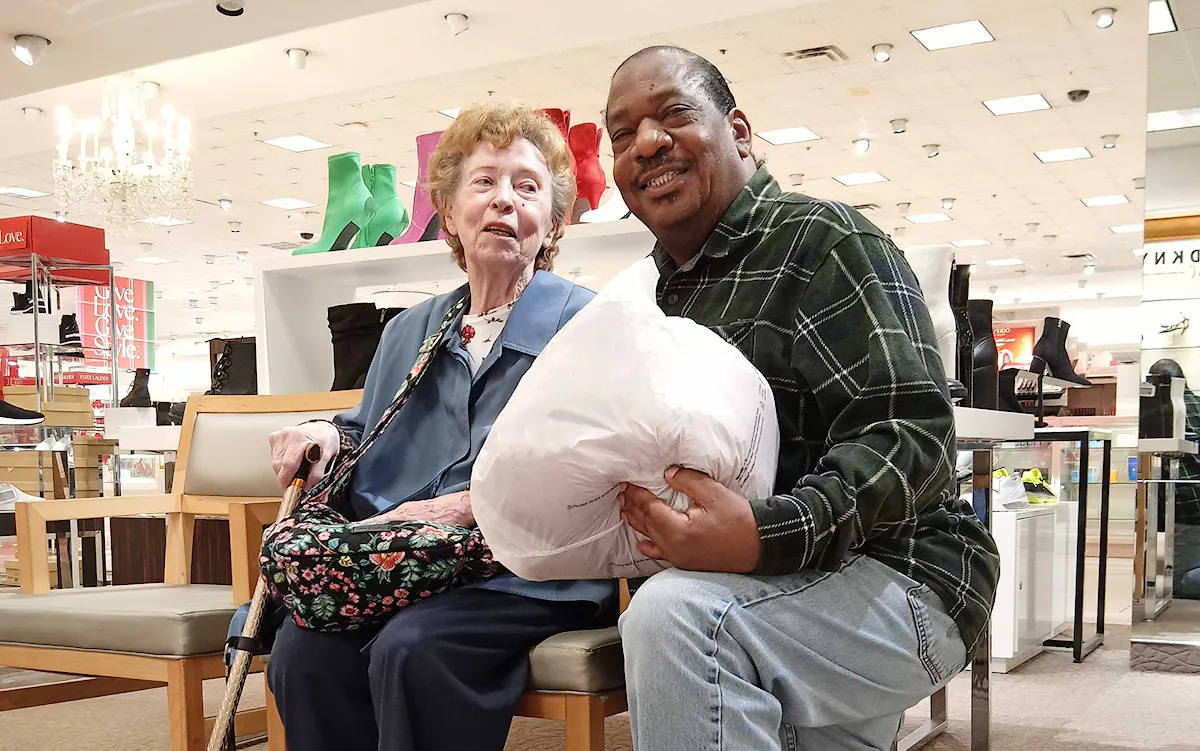 This act of kindness is why store executives are thrilled to have Richardson leading cleaning operations at their facility, a four-story retail behemoth at a local mall. His commitment to providing a welcoming and clean environment for shoppers has earned him major recognition from store executives.
"I truly think of Guy as one of the managers in our store," said the store general manager. "He is someone who is reliable, dependable and treats his staff and our employees with great respect. Most importantly, he knows how to treat customers."
Before Richardson took over as site supervisor in December 2021, the store consistently ranked lower on the store's internal cleanliness scale. It now consistently ranks in the 90s. "What a difference a year has made," said the manager. "Guy has been able to keep and manage a well-trained staff. He is a great example of what a housekeeping leader should be."
Funny thing is, Richardson does not come from a custodial background. He spent 30 years working as a chef at a major hotel brand, managing as many as 100 employees, before getting laid off during the recent pandemic. He was going to retire when he heard about the KBS job through a friend. He started as a part-time employee before quickly becoming site supervisor late last year.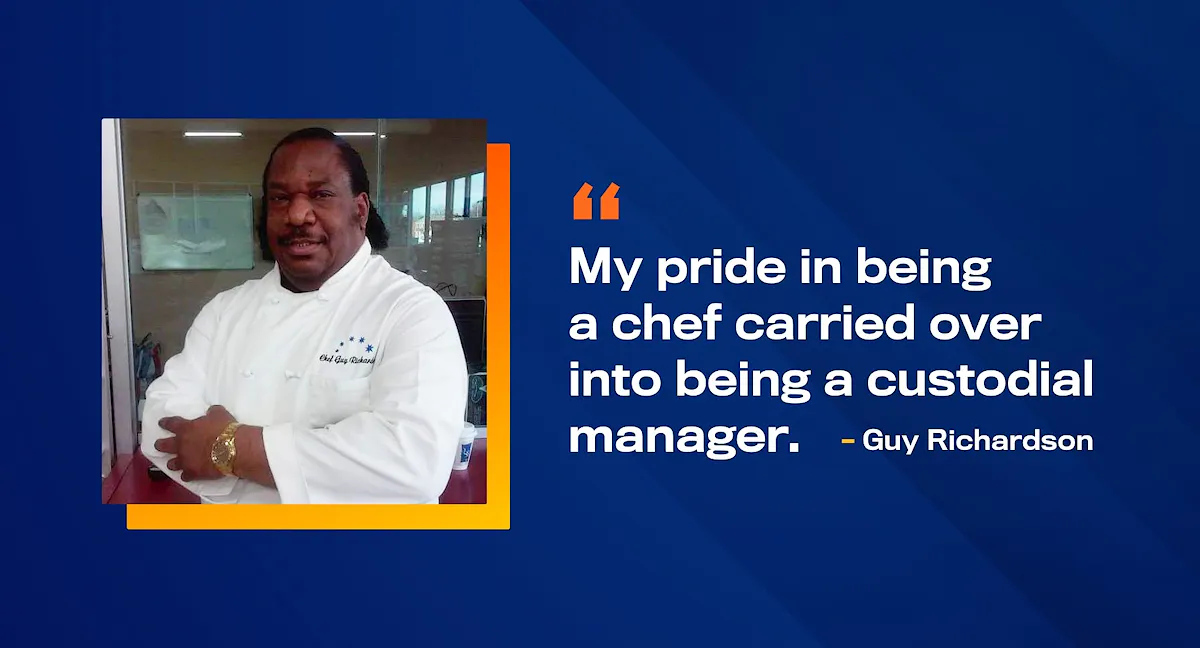 "I had never done a job like this before, but I embraced it fully." he said. "My pride in being a chef carried over into being a custodial manager."
Richardson made several key changes to improve the store's cleanliness and efficiency. He upgraded his staff by replacing under-performing and divisive employees. He began leveraging under-utilized equipment, such as backup vacuums and a multi-tool cleaning system, that dramatically boosted productivity. He also listened to the concerns of the store's head managers and made sure his team knew about their expectations.
The attentiveness shows, as the store manager often finds that Richardson is already working to address any cleaning issues she brings up, even something as small as fingerprints on a glass display case.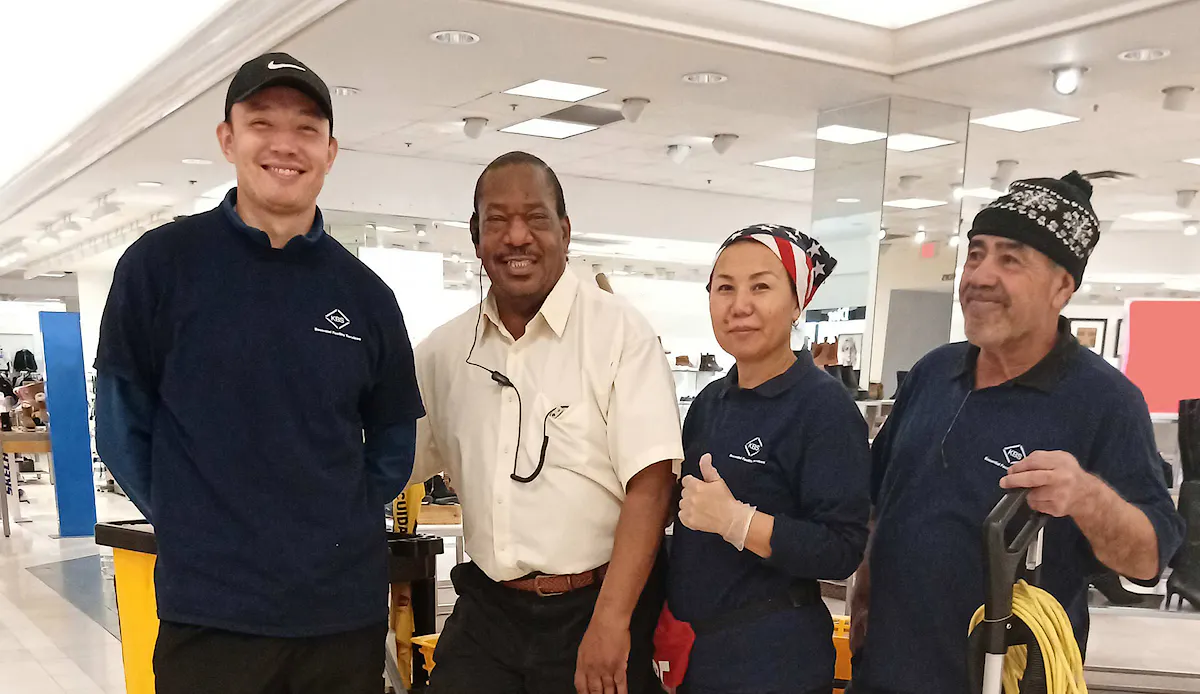 The store has shown its appreciation for his hard work and dedication by giving him routine shoutouts on their intranet, and showering him with gift cards, which he shares with his team. "He makes sure his team gets a lot of credit," said Marty Altounian, a Strategic Account Manager at KBS who oversees Guy and his store. "He has done an amazing job and we are grateful to have him."
Despite all the recognition and appreciation, however, Richardson believes he is just doing his job. "I don't think I go above and beyond; I think I do what is needed for the customers and for my colleagues," he said. "I have a love affair with (the retailer) and for them to acknowledge me is very meaningful and heartfelt. I feel the same about them."